Employee of the year
Editor's note: The attached photo is of the winners of the first Volusia County Tax Collector employees of the year awards. Pictured are, from left: Cindy Krier, motor services lead, Volusia County Tax Collector Will Roberts, and Brenda Miller, motor services specialist.
NEWS FOR IMMEDIATE RELEASE
Feb. 22, 2022
Tax Collector announces first 'employees of the year'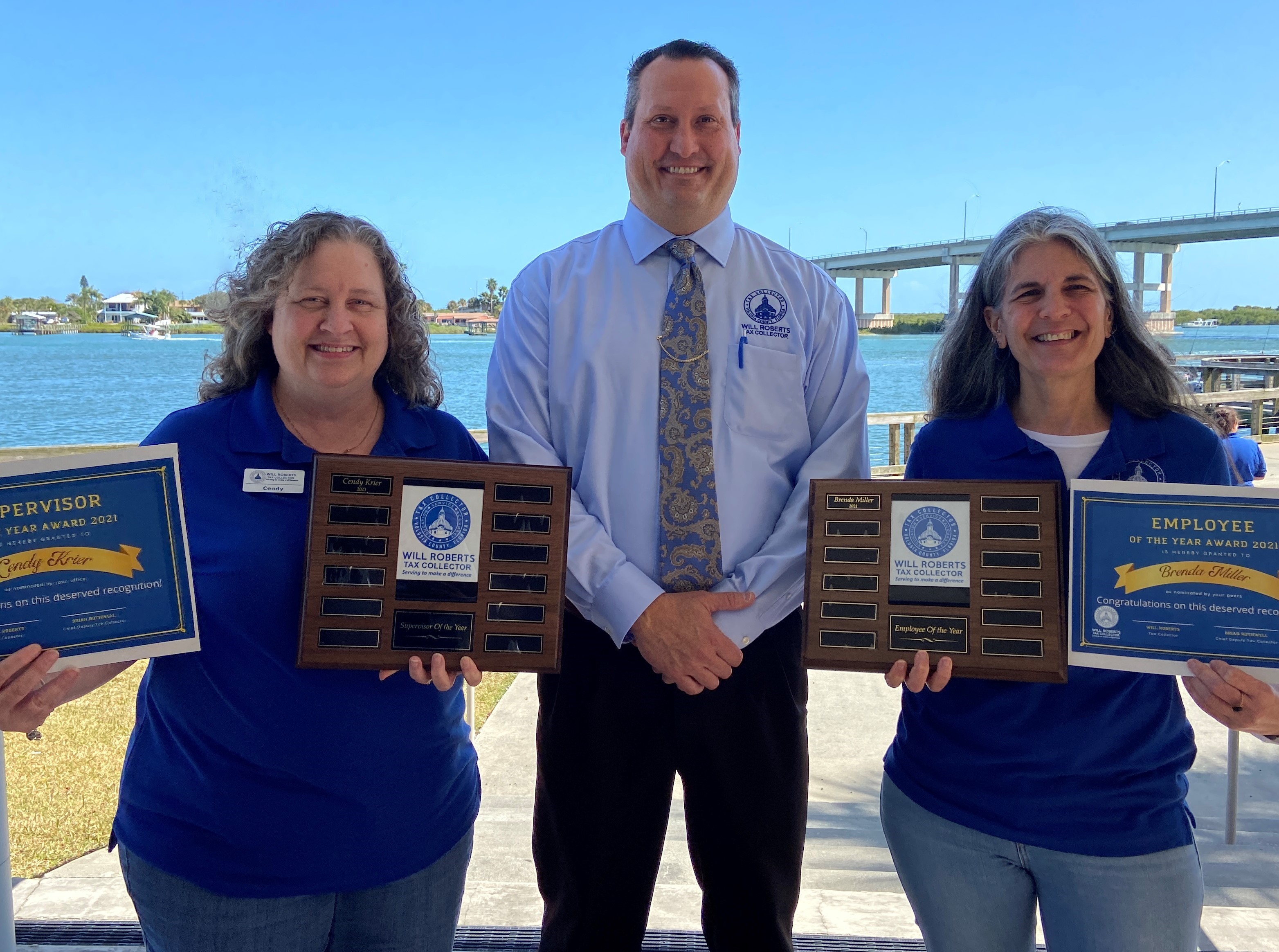 DeLand, Fla. – The Office of Will Roberts – Tax Collector has named its first Employee of the Year and Supervisor of the Year. Their colleagues nominated each for their commitment to customer service.
"I am extremely proud of the example these two team members are setting in the office," said Will Roberts, Volusia County Tax Collector. "When your colleagues recognize your commitment to your work and our customers – both internally and externally, that is the best compliment you can receive for doing exemplary work."
The Employee of the Year, Brenda Miller, is a motor services specialist providing tag and title services. She began her career with the Volusia County Revenue Division in 2003 and transitioned to the newly created Office of the Tax Collector in 2021. Currently she is stationed in the DeLand office. On her nomination form, a colleague described a dedicated, trustworthy, and accurate employee who "always goes the extra mile to educate the customer and save them money whenever possible."
Cendy Krier, Supervisor of the Year, is a motor services lead in the Daytona Beach office. She began her tag and title career in 2012 and earned a promotion to a supervisory position. She also transitioned to the new Office of the Tax Collector last year. Her employees nominated her because "she takes her time to listen to us and explains the next step." They added that she is very positive and has a nurturing spirit.
In 2020, Volusia County voters elected a tax collector for the first time in 50 years. Since taking office on January 5, 2021, Tax Collector Will Roberts has made it his mission to improve customer service by making it easier to access the services needed from the Office of the Tax Collector.
For more information about the Volusia County Tax Collector, services and locations, please visit vctaxcollector.org.
###